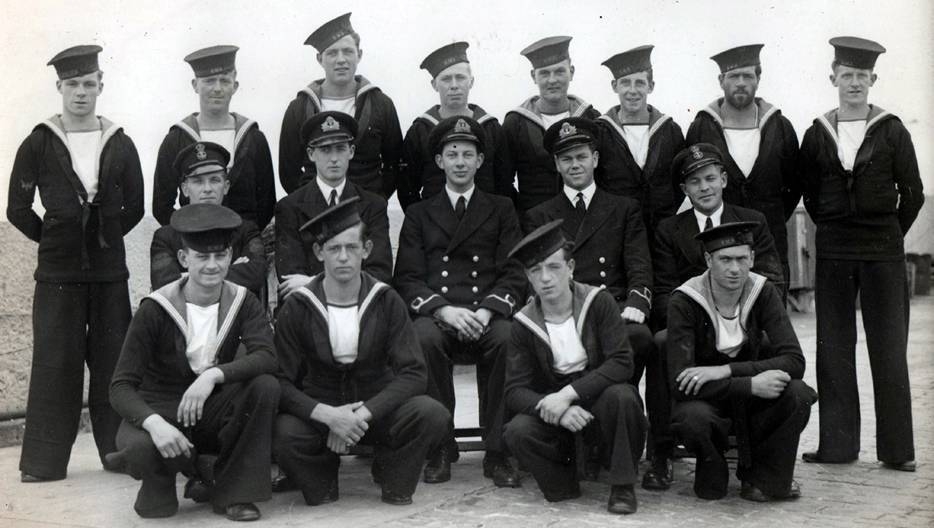 The Schnellboot or S Boat (often called E Boat) was one of the MGB
and MTB's main adversary. The S 100 series Schnellboots were larger and faster
than most of the MTB's and MGB's.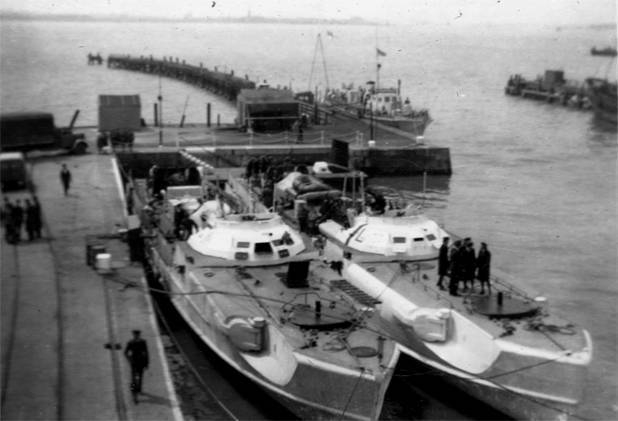 Although the photo left is of the crew of MGB 118 and the list below is of the crew members I do not have knowledge of most individuals names. The CO S/Lt Michael Forsyth-Grant is sitting centre middle row. S/Lt Rod Timms is sitting to the right (as we look at the photo) of him. The other side of the CO I think is S/Lt Ian Galbraith the 1st Lt. I believe Ian Galbraith was later killed in action. One of the PO's sitting on the outside of both ends of the middle row is Coxn PO Hill.
Other names are
AB Joe Currie O/Tel,
AB Carrington Oerlikon power turret gunner,
AB Bill Archer Pom Pom loader,
AB Kane Oerlikon manual gunner,
AB Roy Todd Starboard Lewis gunner,
AB Connelly,
AB Wakeham Chef,
AB Brian Oliver Barker, see Guest Book page entry 45.
AB Hanks,
Stoker Ginger Ashcroft,
AB Charlie Burford Pom Pom gunner.
"Sat 24th July - slipped Ramsgate 2200 navigated to V bouy with MGB 116 - received plot of 2 E boats doing 40 knots off Dunkirk - vectored on to them - flat calm - discovered their bow wave - running fight at 42 knots - one blew up other got away - 4 survivors - escorted MAASBI 42 back to harbour 0500."
"Sun 25th July - Sleep - Press photographers came down to MGB 118 to take photos of "Victorious Crew" - turned in early" Photos above at top of page.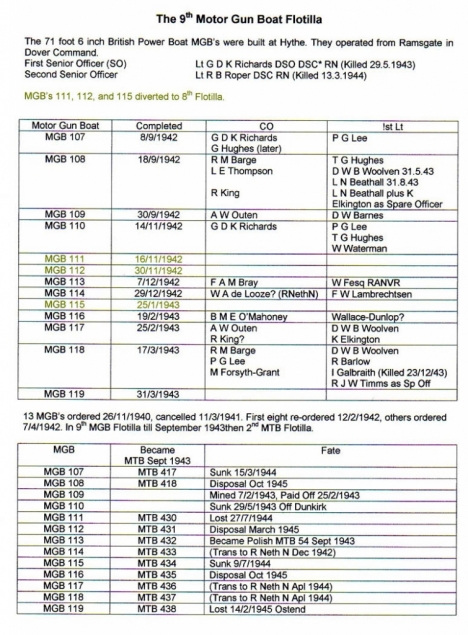 I believe these names to be correct, if you know of any mistakes I would welcome your corrections.