"Sat 24th July - slipped Ramsgate 2200 navigated to V bouy with MGB 116 - received plot of 2 E boats doing 40 knots off Dunkirk - vectored on to them - flat calm - discovered their bow wave - running fight at 42 knots - one blew up other got away - 4 survivors - escorted MAASBI 42 back to harbour 0500."
"Sun 25th July - Sleep - Press photographers came down to MGB 118 to take photos of "Victorious Crew" - turned in early" Photos above at top of page.
Below is a copy of an "Action Report" from Kalle Scheuch's website. He has kindly given permission for this to be published on this page. Use the link to view the excellent site which provides a huge amount of information about "S Boats" (these boats were often referred to a "E Boats" by the British, (E for ememy).
The link to the relevant page is: http://www.s-boot.net/englisch/sboats-km-channel43.html
July 1943
Boats S 68 (Oblt.z.S . Helmut Moritzen) and S 77 (Oblt.z.S. Josef Ludwig †) left Boulogne en route to Ostend. North of Dunkirk they ran into a MGB/MTB patrol. During the developing dog-fight S 77 was lost while S 68 escaped.
Shortly after midnight the F.d.S. received a message from the 2. Sicherungs-Division which reported a fire at sea, at 00.27 a big explosion had been observed and there was a possibility that a boat was blown up. The CO of S 68 reported upon entering Ostend that S 77 was lost out of sight during the battle and was possibly lost in action.
A search for the boat with five boats was without result. At 03.55 the B-Dienst (Observation-Service) decoded that MGB 40 and MGB 42 had picked up four survivors of the German S-Boat among them two lightly wounded.
A German surveillance aircraft sighted the sinking position of S 77 marked by floating wreckage but no survivors were found. A telephone-call by Flakgruppe Dunkirk (Anti-Air-Gun-Group) reported that about 7 km off the coast a rubber-boat had been sighted. Around lunchtime the Search- and Rescue-Service rescued 12 men from this rubber-boat.
They reported that S 77 had been seriously damaged by the British MGBs. The CO of the boat had therefore scuttled the boat in position 51o12'N, 02o21'E. The British had rescued four men. The CO and 10 men were missed in action. Since the CO of S 68 had not fired back and had not reported about the battle, the F.d.S. accused Oblt.z.S. Moritzen to if not had caused but not tried to make the situation more favourable for OBlt.z.S. Ludwig. A case of court-martial was raised against Oblt.z.S. Moritzen.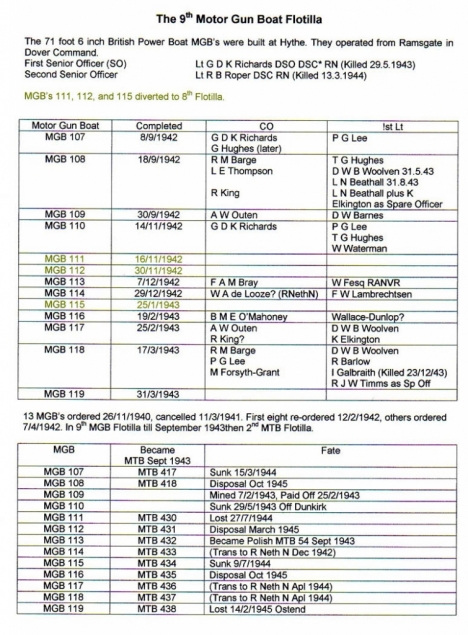 I believe these names to be correct, if you know of any mistakes I would welcome your corrections.