Sometimes even the best laid plans did not work out! Rod's personal log for Tuesday 4th August 1942 reads "Stitched pennant - cleaned superstructure - dinner - painted and cleaned Y gun - Stokes flogged rum ashore - ashore in RAF lorry to RDF canteen in north of island by invitation of RAF - lovely ride - near Haroldswick - transport withdrawn - recalled no bloody lorry - (all part of plot) - so had to hike all the way home with Sparks- got lift halfway - on board - in rattle (defaulter) - on Senior Officers report. Wednesday 5th August messed about - dinner - DEFAULTERS MUSTER - Turnock, Clark, Wings, Sparks, Stokes and Self - Reprimand - so they probably realised it was a put up job and we had to walk home - tea - did dhobeying - turned in - Wings and Clark got 7 days No 11."
The diet on-board was sometimes monotonous, fresh meat was hard to come by. Grog could not be stored up and was strictly supervised. Some of the Isles were "dry" (no alcohol allowed for the locals), however if there just happened to be some Rum spare (of course there never was) it could be exchanged ashore for a fresh chicken!
Leave ashore was allowed but we could go no further away than gunshot distance. Recall was by firing a gun twice when we had to run back to the boat as fast as possible. We were tied up at the end of Baltasound Public Jetty (see picture below) and kept telephone watch in a small hut ready to go to sea in an emergency.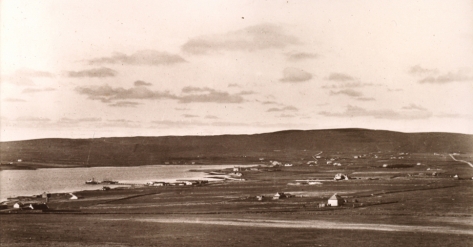 During early 2012 I was contacted by Elizabeth King nee Priestley, the daughter of the C/O of 345. Elizabeth has provided me with a very good photo of the ship's bell (HMML 345). Elizabeth told me the story of her baptism in the ships bell! She commented "By the way the Bell is about 7" (18cm) tall and the same across at its widest." The photo shows that the bell is inscribed with HMML 345 around the top part and has "Elizabeth Anne Priestly" engraved beneath the number. The date of the baptism is recorded below the name "1/4/1945". She recounts that "Apparently it was fairly usual for children to be baptised on board ship, with the bell used upside down as the font" she also mentioned "I believe I behaved well; but my brother, about 21 months at the time, was found to be a little bit tiddly, as he had been finishing up the dregs of various pink gins".
Further information will be added as it is obtained. Click this link.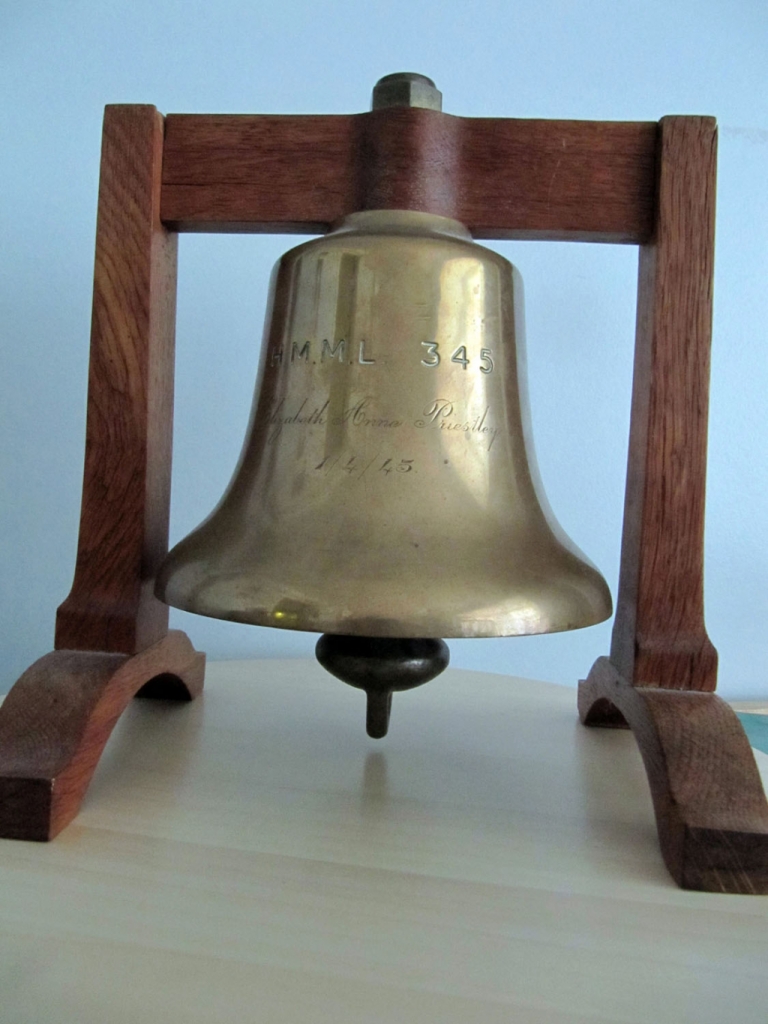 Ship's Bell of HMML 345