HM ML 345
The above photos were taken of the crew of ML 345 while she was moored at Teddington on the Thames near where she was built in very early 1942 at Isleworth by Diesel Oil Vaporisers. She was commissioned on 13th March 1942. Unfortunately I do not know who is in each photo. Obviously the photo below left was taken at low tide! Below right Rod is pictured (without hat) on left of photo. I believe this was also taken at Teddington in March 1942.
| | |
| --- | --- |
| | |
In his diary Rod comments that "345" had on her upper deck " .... two anchors forward - chains leading to cable locker - 40mm Rolls gun on bandstand - fender racks - meat and vegetable lockers - 2 twin Lewis guns - a Holman projector - gun for depth charges and 22 depth charges and a 20mm Oerlikon aft.. "

The photo to the left is a cropped one of the forward upper deck of "345" showing the Rolls 40mm gun.

Further pictures of the crew can be seen below again I do not have a record of who the crew are. There is a list of names in the "Coastal Forces Training" page.

On Friday 15th May 1942 Rod's diary states "Rise 0700 - provisions - cleared ship - Captain ML aboard for talk - dinner - 1400 slipped in company with ML's 453, 479 and 487, we were third in line - 2 watches - passed invasion block (fort) into Yarmouth - bloody tricky - secured alongside 2030 - supper - b tired - arranged watches - had "pussers hard" bed 2330." The passage was from Brightlingsea to Yarmouth.

Below is a picture of a three masted Barque the Alastor from Hango in Finland moored off Brightlingsea. As Finland was a neutral country her national flag, name and nationality can be seen clearly painted on her side. ML 345's railings can be seen in bottom left the of picture. The picture below right shows ML 345's crew on the rigging of the Alastor.

For more information about 345, the above photos and Brightlingsea click

this link.

The entry in Rod's log for Thursday 23rd April 1942 reads "Rise 0700 - messed about (this is a phrase he often used!) - cleared guns - dinner at 1130 - Slipped 1230 - out to sea - on wheel - Action stations - shooting fire etc used pair of Lewis guns - Boarding party on Finnish sailing ship - towed by ML 485 - back to river - picked up pilot - onto mud at 1830 - share watch with ML 487 - painting tin hats - bed 2330."

One of the few photos that are named on the back is the one left that shows ML 345 at sea. The caption reads, "At sea ML 345 Turnock, Self, Tubby Watters, Nobby Clark and Wings Hawkins."

As Rod usually listed names from left to right I assume that on the left is "Turnock, Rod is standing hatless with naval duffle coat on, below him is "Tubby Watts" next to Rod also standing with hat on is "Nobby Clark" and on the right sitting with hat on is "Wings Hawkins".

If you know differently please contact me and correct the order of names.

On Wednesday 25th May 1942 at 0645 ML 345 slipped. She left Yarmouth on her journey north to Stornoway on the Isle of Lewis in the Scottish Hebrides. This journey up the east coast of England and Scotland to Inverness, through the Caledonian Canal to Fort

William and on through the mists of the Hebrides to the "capital" of Lewis - Stornoway took until Thursday 4th June, docking at 2000.

ML 345 was based at Stornoway Lerwick and Tobermory during her stay in Scotland while Rod was with her. She underwent a refit at Inverness around Christmas 1942. Left ML 345 is shown dressed for Christmas alongside at Inverness.

While 345 was at Inverness Rod left her and was transferred to Mess 5 H Portsmouth Barracks as a preliminary to starting Officer Training in the New Year.

Sometimes even the best laid plans did not work out! Rod's personal log for Tuesday 4th August 1942 reads "Stitched pennant - cleaned superstructure - dinner - painted and cleaned Y gun - Stokes flogged rum ashore - ashore in RAF lorry to RDF canteen in north of island by invitation of RAF - lovely ride - near Haroldswick - transport withdrawn - recalled no bloody lorry - (all part of plot) - so had to hike all the way home with Sparks- got lift halfway - on board - in rattle (defaulter) - on Senior Officers report. Wednesday 5th August messed about - dinner - DEFAULTERS MUSTER - Turnock, Clark, Wings, Sparks, Stokes and Self - Reprimand - so they probably realised it was a put up job and we had to walk home - tea - did dhobeying - turned in - Wings and Clark got 7 days No 11."

The diet on-board was sometimes monotonous, fresh meat was hard to come by. Grog could not be stored up and was strictly supervised. Some of the Isles were "dry" (no alcohol allowed for the locals), however if there just happened to be some Rum spare (of course there never was) it could be exchanged ashore for a fresh chicken!

Leave ashore was allowed but we could go no further away than gunshot distance. Recall was by firing a gun twice when we had to run back to the boat as fast as possible. We were tied up at the end of Baltasound Public Jetty (see picture below) and kept telephone watch in a small hut ready to go to sea in an emergency.

During early 2012 I was contacted by Elizabeth King nee Priestley, the daughter of the C/O of 345. Elizabeth has provided me with a very good photo of the ship's bell (HMML 345). Elizabeth told me the story of her baptism in the ships bell! She commented "By the way the Bell is about 7" (18cm) tall and the same across at its widest." The photo shows that the bell is inscribed with HMML 345 around the top part and has "Elizabeth Anne Priestly" engraved beneath the number. The date of the baptism is recorded below the name "1/4/1945". She recounts that "Apparently it was fairly usual for children to be baptised on board ship, with the bell used upside down as the font" she also mentioned "I believe I behaved well; but my brother, about 21 months at the time, was found to be a little bit tiddly, as he had been finishing up the dregs of various pink gins".

Further information will be added as it is obtained. Click this link.

Ship's Bell of HMML 345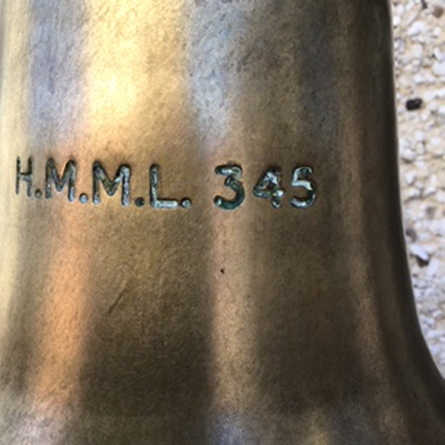 The above picture of the ship's bell was sent to me by Phil Greenham during the Covid 19 "Lock Down" 2020. He states that his father bought the bell between 1957 and 1962 when they were living in Bushey. Phil says that he used the bell during the "Thursday NHS recognition 'Clapping'" in the spring of 2020. It's good to know that the bell is still used. Could Phil's bell be the replacement for the one used at Elizabeth's christening? Or was it the original!